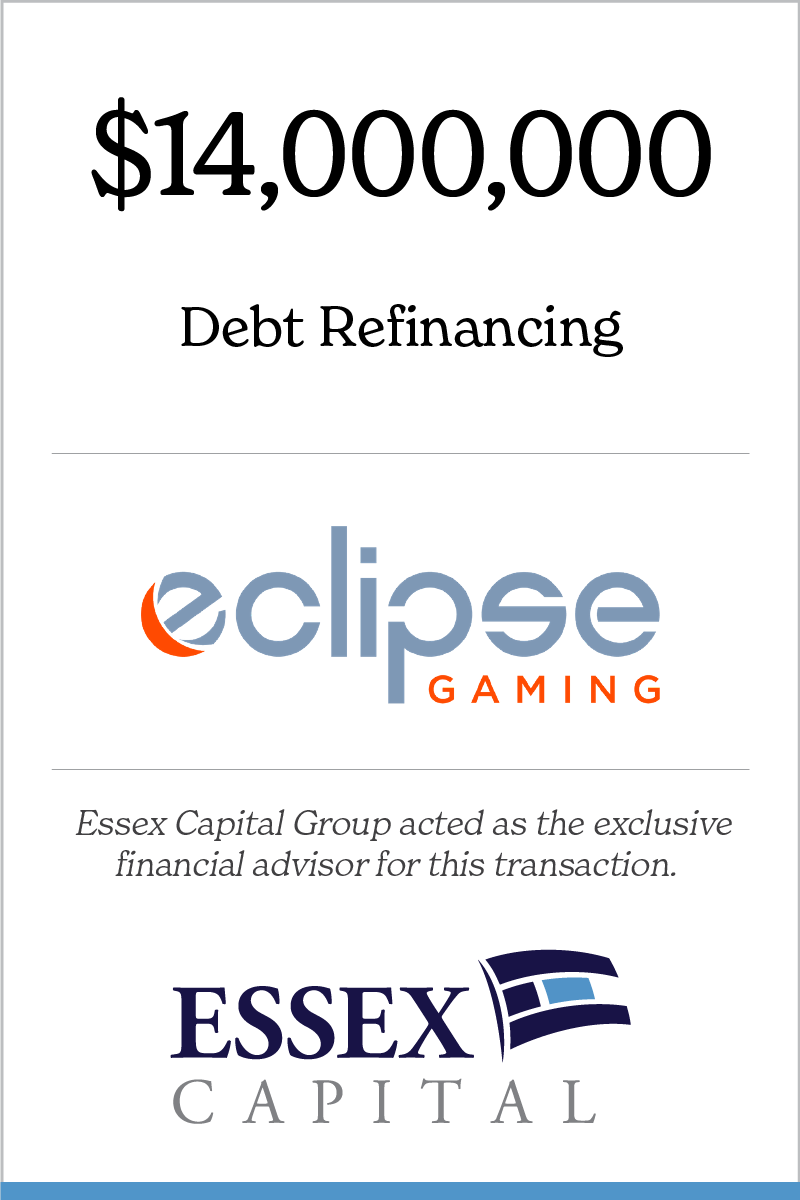 TAMPA, FL – May 17, 2023 — WebWire – Essex Capital Group, Inc. ("Essex") announced that the firm recently closed a new $14 million debt facility for Eclipse Gaming Systems, LLC ("Eclipse" or the "Company"). Deal proceeds were used by Eclipse to refinance existing debt and fund the continued growth of the Company.
Eclipse operates in the gaming industry, limiting available financing options, and approached Essex to find a long-term debt financing solution that would refinance existing debt while offering additional capital for future growth.
Fred Beilstein, Essex Managing Director commented, "It was important for the Company to partner with a debt provider that understood the industry while offering additional services. We were successful in securing additional leverage capacity for Eclipse while substantially lowering the Company's cost of capital. This was a true team effort, and we appreciated the tenacity that the new lender and Company management team showed in bringing this deal to the closing table."
The Eclipse Gaming Systems deal follows several other recent deals closed by Essex Capital Group, including a $19.4 million financing to fund the acquisition and renovation of a Hilton Garden Inn location in central Florida and a $13.6 million lease-back financing deal for a Northeastern U.S. Medical Facility.
Essex Capital acted as the exclusive financial advisor for Eclipse in this transaction.
About Essex Capital
Essex Capital Group, Inc. is a Tampa, Florida-based corporate finance firm serving small and middle market privately held companies located throughout the United States. With extensive capital markets experience, Essex provides creative solutions to businesses in need of financial restructuring. Typical advisory services include balance sheet recapitalizations with senior and subordinated debt. Since inception in 2003, Essex has successfully raised in excess of $1.25 Billion for 140+ corporate finance clients.
To learn more about Essex Capital Group, visit essexcg.com.
Contact
Media Inquiries