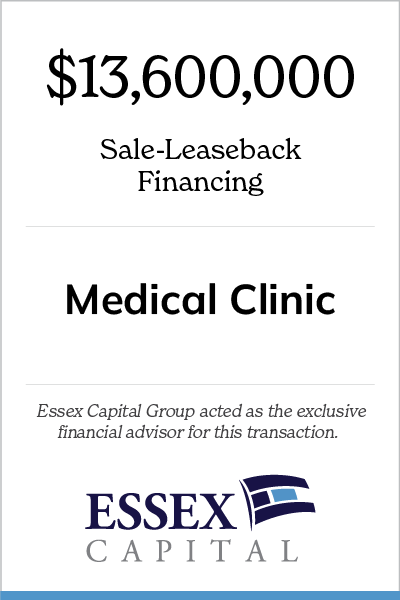 TAMPA, FL – April 19, 2023 — WebWire – Essex Capital Group, Inc., announced today that the firm recently arranged financing for a $13.6 million sale-leaseback transaction on a healthcare facility located in the Northeast U.S.
Essex provided a debt financing solution to the buyer of the medical clinic, enabling an Essex client to transact a sale-leaseback on the property. The deal unlocked excess liquidity for the client while facilitating the renovation of the property and allowing management to maintain its strategic growth plan.
The deal follows the recent Essex closing of a $19.4 million financing to fund the acquisition and renovation of a Hilton Garden Inn location in central Florida.
On financing the Northeastern medical clinic, Essex President Rob Swain commented, "Our client approached us with a capital need to finance the renovation of a medical clinic. The client's access to additional debt capital for the project was restricted by their existing lender. Essex provided a solution for the company by arranging financing for a NNN investment fund to acquire the property, renovate it, and lease it back to the business on a long term basis."
Essex Capital acted as the exclusive financial advisor for this transaction.
About Essex Capital
Essex Capital Group, Inc. is a Tampa, Florida-based corporate finance firm serving small and middle market privately held companies located throughout the United States. With extensive capital markets experience, Essex provides creative solutions to businesses in need of financial restructuring. Typical advisory services include balance sheet recapitalizations with senior and subordinated debt. Since inception in 2003, Essex has successfully raised in excess of $1.25 Billion for 140+ corporate finance clients.
To learn more about Essex Capital Group, visit essexcg.com.
Contact
Media Inquiries