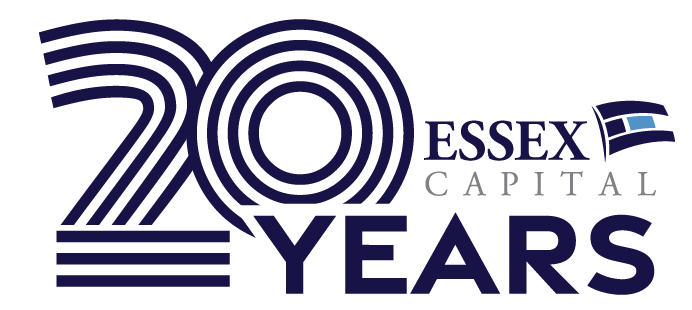 TAMPA, FL – April 5 — WebWire – Essex Capital Group ("Essex"), a corporate finance advisory firm headquartered in Tampa, Florida marked its 20th anniversary on March 14th, 2023.
"We're very proud to reach our twenty year milestone. Essex has thrived all of these years through a steadfast commitment to serving our clients' varying financing and strategic needs," commented Rob Swain, Essex President. "When we began, we wanted to create a first class investment banking platform dedicated strictly to raising debt capital for the lower middle market. We've exceeded our own initial expectations, having successfully served the liquidity needs of so many clients across the US. Since 2018, we've moved up market on deal sizes, having closed three transactions in the $100 million range. We've also expanded an already powerful platform by adding services like our new independent sponsor entity, a sale-leaseback firm as well as an equipment leasing subsidiary. We're excited to enter our third decade by continuing to offer innovative financing solutions for lower middle market entrepreneurs."
Founded in 2003 by father and son Bob and Rob Swain, Essex was named after the famed Nantucket whaleship Essex that became an inspiration of tenacity and survival, while also drawing on the Swain family's Nantucket roots. Since its founding, Essex has arranged more than $1.25 billion for clients.
Essex Capital's three principals draw on over 100 years of collective corporate finance experience to successfully source, negotiate, and close financing transactions for corporate clients operating in a variety of business sectors. With deal execution experience built over 140 successful transactions and a proprietary, institutional network of capital providers cultivated over the company's 20-year history, Essex has built a reputation for consistently delivering liquidity in times of need for clients.
Essex Capital is marking its anniversary this year by rebranding the firm with a modern look that honors its past, including the launching of a new website today.
The company also operates subsidiaries Essex Partners, Essex Properties, and Essex Funding.
About Essex Capital
Essex Capital Group, Inc. is a Tampa, Florida-based corporate finance firm serving small and middle market privately held companies located throughout the United States. With extensive capital markets experience, Essex provides creative solutions to businesses in need of financial restructuring. Typical advisory services include balance sheet recapitalizations with senior and subordinated debt. Since inception in 2003, Essex has successfully raised in excess of $1.25 Billion for 140+ corporate finance clients.
To learn more about Essex Capital Group, visit essexcg.com.
Contact
Media Inquiries